NEC Birmingham
2-6 FEBRUARY 2020, EVERYDAY SECTOR OPENS 1 FEBRUARY
Here at Korbond we have been strengthening our ranges in 2019 and are excited to showcase our portfolio of brands at Spring Fair 2020.
 After a fantastic launch of our travel brand into the marketplace in AW19, we are proud to represent our navig8 range in range in line with our company ethos which is to provide products that are affordable and accessible for every household and family. With steps taken to improve sustainability, the Navig8 packaging is widely recycled and uses environmentally friendly card from FSC certified sources.
 We also have upgraded our entire range of Creations by Korbond, House of Textures craft storage. Minor design changes and re-modelling make all the difference and will provide crafters with smarter ways to organize their kit. Examples of modifications we have made include changing the orientation of the closure on our Twin Lid Sewing Baskets, to allow easier access to everything required when getting creative. In addition to this, we have been able to introduce a new shade palette to the range. Although monochrome remains very popular in 2020, we were inspired by colours that provide a contrast to the more traditional options such as Herringbone. Visit our stand to find what we have selected.
 Finally, we are excited to now offer Multi Packs within our Korbond Care & Repair brand, which have a great appeal to consumers who are more frequently buying in bulk. Examples include Lint Rollers which are competitively priced to offer a discount to consumers who are price savvy.
Come & chat with us Hall 9 &10 stand 9A54, to see how we can assist with your category planning for 2020.
Click the banner to register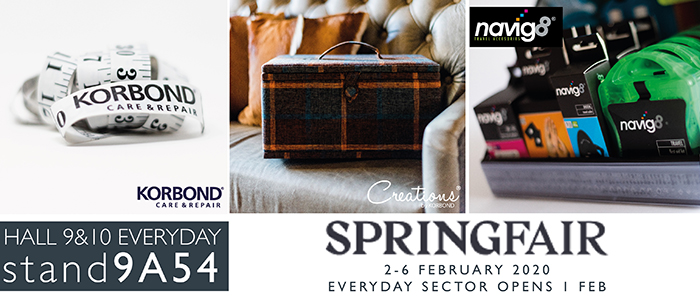 Share with...