Travel Accessories
With millions of trips made each season, the navig8 range provides a high impact solution for both destination a nd impulse purchases. The navig8 brand is bright, contemporary & impactful, and contains key selling travel accessories, including; adaptors, luggage security and identity, comfort, health & hygiene and appliances.
Previous
Next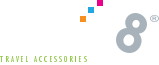 Travel Adapters
A selection of travel adaptors for keeping appliances fully charged & accessible, each being officially tested and approved by latest BS standards.
Accessories and Appliances
A wide variety of essential travel products to make journey's pleasant and more enjoyable.
Luggage, Security and Identification
An assortment of products to aid identification and keep valuables safe & secure.
Comfort, Health and Hygiene
A range of products designed to maintain health and wellbeing when travelling.
---
---
laggra hair extensions ebay synthetic hair extensions review sexy latex clothing ebay hair extensions next day delivery removing hair dye with baking soda and peroxide latex clothing