While we have enjoyed the opportunity to meet virtually via h+h Cologne, nothing quite measures up to the tangibility of meeting face to face for engaging conversations and seeing the innovation in the products you are buying into first-hand. We have a wealth of newness to share with you and so will be boarding for the journey to Cologne with confidence to share the capabilities of Korbond with you, the UK's no.1 in haberdashery sourcing and supply.
The last couple of years have been a time for considered development and growth with consumers spending more time at home embracing craft and reflecting on the world we live in, and so we have responded to this and evolved our packaging with a strong eco-focus and incorporation of the crafting trend.
Still executed in our recognisable brand colours of yellow and blue, the visual elements of the packaging remain largely unchanged the most significant modification that you will see is captured in the eco element of the project and our mission to remove, reduce, reuse, and recycle more; and so, we are proud to share that our packaging is now 100% PVC free and 90% of it is recyclable. Furthermore, the introduction of on-pack photography brings refreshed inspiration to the products, targeting those emotive buying signals for the creative consumer and bringing to life our new strapline – CARE|REPAIR|CREATE.
While reading and walking saw a healthy 51% increase in popularity when exploring pursuits undertaken during the pandemic, crafting saw an impressive 89% uplift putting it in the top spot. Breaking it down further, knitting, sewing and embroidery remain in the top spots of the Top 20 Crafts, with cross-stitch climbing up the charts into the fourth spot; and so, our strapline and range needed to progress from the concept of "Care" & "Repair" within the haberdashery category to encapsulating more creative elements, meeting growing consumer craft trends.
Additionally, you will see refreshed ranges across our craft storage, yarn, and the introduction of crafts kits. Our new extra-large baskets are now our top sellers with consumers now committing to 8 or more crafts at one time and seeking out suitable storage for this. Interest has been added to our existing DK yarn range with 18 new SKU's, including Twinkle and Chunky yarns, and we have introduced Craft Kits for embroidery and cross-stitch to the range in response to the increased frequency of buying kits up to 1 in 4 on the previous year.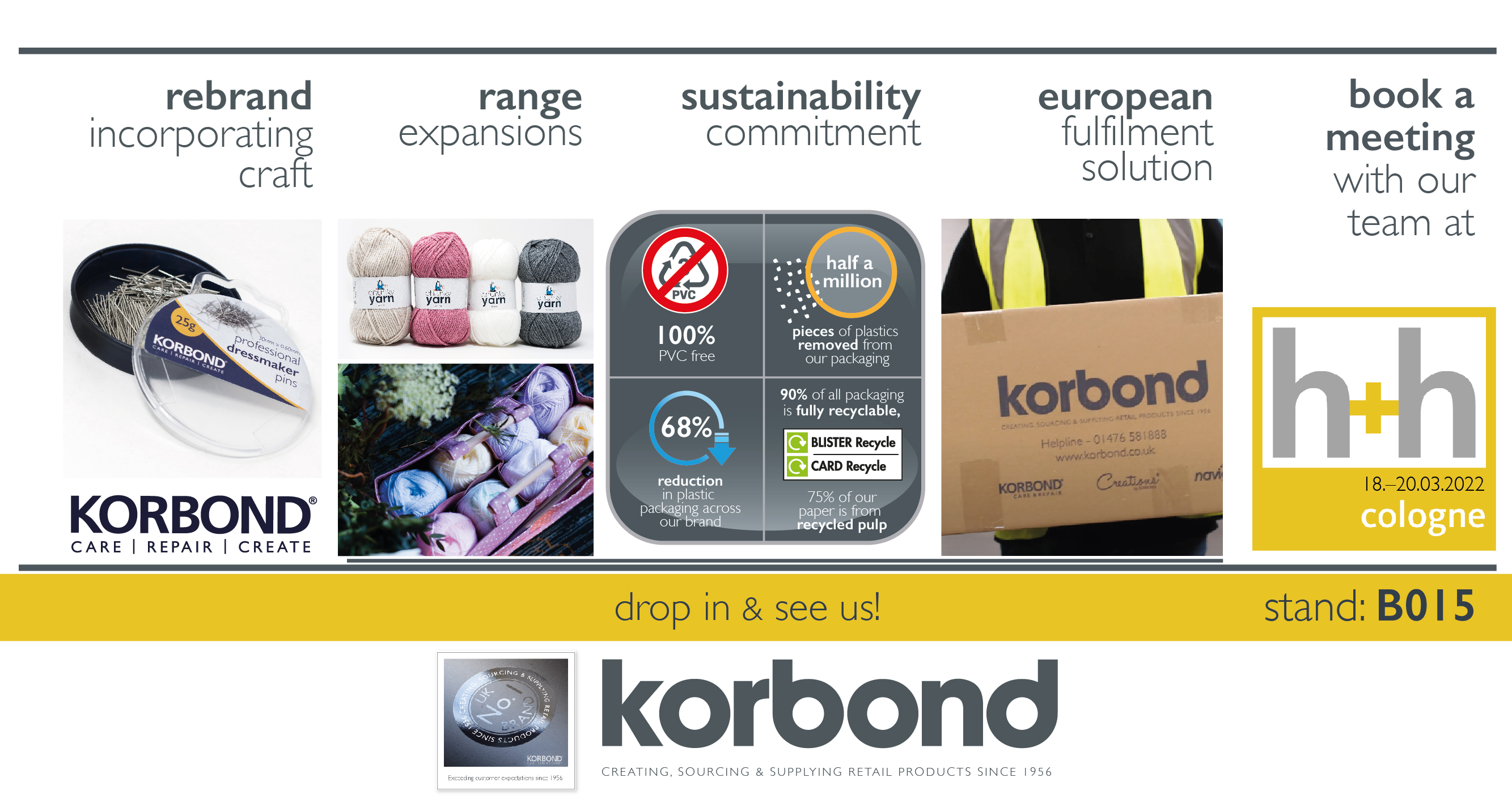 We look forward to welcoming you on to our stand no. B015 at h+h and sharing all of this and more with you and we would like to reassure you that fulfilment of our products across Europe is guaranteed. We have worked hard with our distribution partners over recent months to ensure a robust fulfilment strategy is in place leading up to h+h and beyond.