So why organic?

In many countries, cotton is still handpicked. Anyone working in those cotton fields is exposed to extreme amounts of toxic chemicals, to be precise 25% of the world's insecticide and more than 10% of the world's pesticide is used on crops. Some of these chemicals are considered to be the most toxic chemicals in the world, the health risks of pesticide exposure include birth defects, reproductive disorders and weakened immune systems. Others in the neighbouring communities are also affected once the chemicals have seeped into the water supply and furthermore, more widely these chemicals can be found in the clothes we wear every day, a pair of jeans can contain up to 3/4lbs. of chemicals and a t-shirt features 1/3lbs, so if you are simply wearing jeans and a t-shirt, you are potentially wearing over 1 pound of chemicals!
However organic cotton production uses no toxic chemicals and employs natural methods such as beneficial insect releases to protect crops. By opting for organic cotton, you are not only choosing a healthier alternative for yourself, but you are also contributing to a cleaner, chemical free environment. Even the spools are environmentally friendly, made from upcycled vintage wood.
Organic ring-spun and combed cotton threads are among the softest available on the market, and because it is combed cotton, it is also strong, stable, and durable; couple that with the environmental benefits of going organic and it seems the natural choice.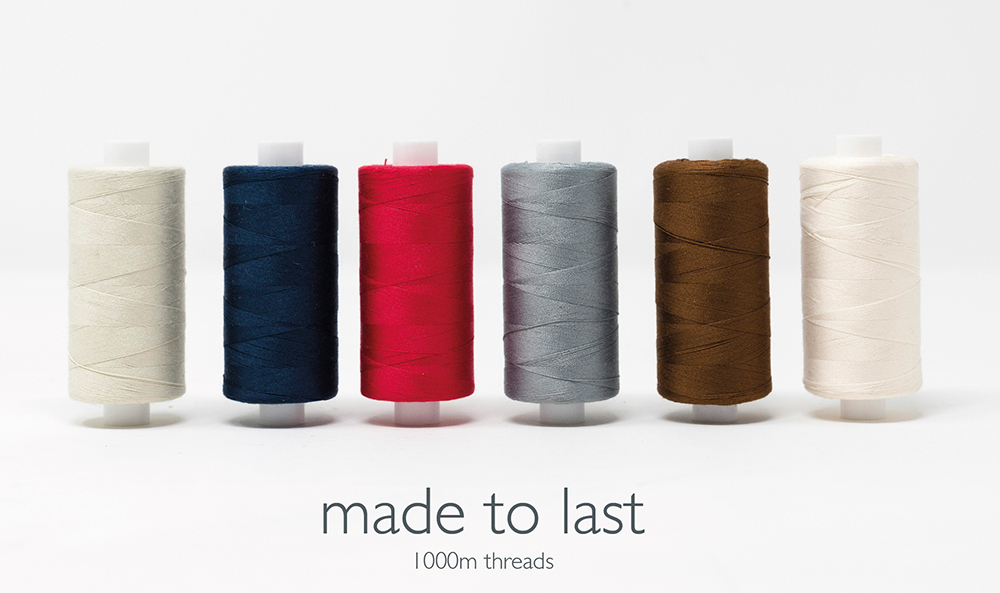 Whether you are in it for the long haul or the short haul this summer, our thread collection is ready for any eventuality. We have listened to consumers and closely monitored our customer sales, resulting in a significant expansion of our thread range to include 1000m, 5000m and Organic options.

We have taken the eight best-selling colours - white, black, cream, brown, grey, natural beige, navy and red - and made 1000m spools for your convenience, white and black also available in 5000m spools, giving you value and longevity with the same trusted durability.