We are beginning to enjoy seeing the rollout of the eco rebrand among some of our trading partners, including Tesco, Sainsbury's, and Wilko within our best-selling Lint Removal range as stock sells through, and we look forward to seeing the progression of the launch across the full portfolio of products on the High Street.
This project has been an evolution to modernise, whilst sustaining our brand heritage and environmental values, so you will not see any dramatic colour changes, rather we have deepened the blue, dropped back the yellow and introduced a softer off-white, providing a more contemporary premium feel.
While the visual elements of the packaging remain largely unchanged the most significant modification that you will see is captured in the eco element of the project and our mission to remove, reduce, reuse, and recycle.
·Remove "Bad" and non-recyclable packaging.
·Reduce packaging's environmental impacts.
·Reuse packaging for storage when it is practical to do so.
·Recycle more.
The introduction of on-pack photography also brings refreshed inspiration to the products, targeting those emotive buying signals for the creative consumer and bringing to life the new strapline – CARE|REPAIR|CREATE.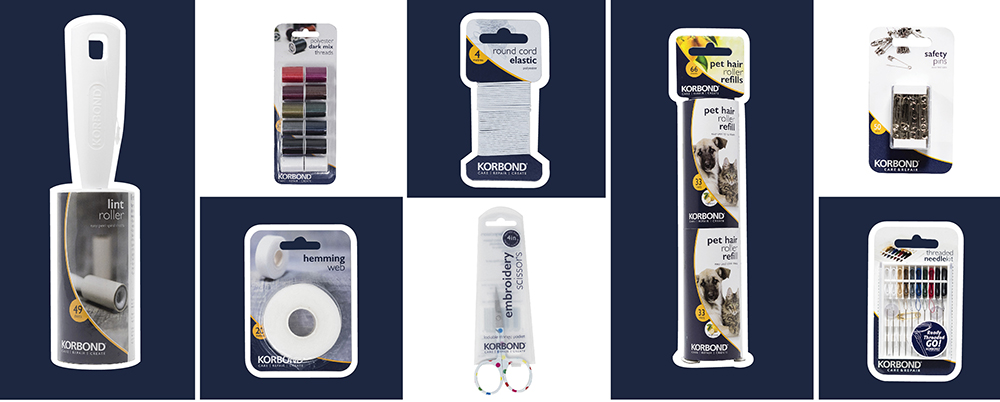 Traditionally our brand has focussed on the concept of "Care" & "Repair" within the haberdashery category. Our tools and accessories have consistently been designed to equip households with fit for purpose, affordable products that essentially make their lives easier and more enjoyables; i.e., Lint Rollers, Clothes Brushes, Washing Bags (etc.) have all been made to support household care and maintenance, while our ranges of sewing needles, threads, elastics and hemming accessories, fixings and fasteners work together to make and mend clothing, garments and furnishings increasing the longevity of items. Now our strapline incorporates "Create", encapsulating the creative elements of our category and meeting growing consumer craft trends.
For many years we have sold crafting tools and accessories, including yarn, knitting tools, embroidery hoops, needles, threads and crochet hooks to name a few, but our repositioning now places the creative element firmly at the centre of the Korbond brand while retaining the brand ethos, heritage and established consumer recognition points.